Eco-friendly rubbish removal
Tunbridge Wells
Welcome to Eclipse Waste Clearance the easy and eco-friendly alternative to skip companies. Our crews take all types of waste, from furniture and electrical appliances to refurbishment waste and garden refuse. We remove rubbish and waste from anywhere on the property, we charge according to the amount and type of junk we take, and we always provide a no-obligation quote before we start.

Rubbish Clearance
Household Waste
Furniture Removal
All Sites Cleared
Rubbish Clearance and Waste removal Services in Tunbridge wells, Sevenoaks, Tonbridge Kent
We will deal with your rubbish clearance so that you don't have to. Our Kent based team will collect and dispose of commercial and residential waste efficiently and ethically. Where possible, we always recycle or reuse anything we can, meaning as little as is possible goes to landfill. Great for the environment and your social responsibility.
We can clear anything from an old sofa to a whole building site of waste & rubbish using specially customised waste clearance vehicles. We will come and clear all of your rubbish regardless of whether it is a domestic or commercial property, our teams are used to dealing with all kinds of waste and really take the hassle out of it for you.
We offer a cost effective service, we will turn up at a specified time, do all of the clearance ourselves so you don't need to worry about heavy lifting or moving your rubbish to a specific location, just show us where it it. We will clean up afterwards and always ensure that your waste is disposed of correctly. Our rubbish clearance London service is easier than hiring a skip and can even be cheaper. You don't need to get a permit or clear space on your driveway.
Call: 01892 322052
Email: eclipsewasteclearance@yahoo.com
We're licensed by the Environmental Agency and can be trusted to dispose safely and responsibly of all waste we remove. We're also working hard to build relationships with local charities, which allow us to repurpose items for a greater cause.
Please watch video below
Landfill info
Traditionally the way most of the nation's waste was disposed of until around 15 years ago, landfill sites are now much more advanced than simply a hole in the ground where waste is buried.
Improvements in recycling and technology mean that less waste is now being sent to landfill and that value is recovered from anything that does. Most landfill sites control and collect the gas that is released by the decomposing waste, using it to generate electricity through turbines. This electricity goes back into the national grid to help power businesses and homes. SITA UK is also the only landfill operator to generate vehicle fuel from land fill.
Strict regulation means that the environmental impact of landfill sites is very carefully managed and monitored, with the types of material that can be sent to landfill defined by law. Landfill sites are carefully designed and planned, with waste only being tipped into certain 'active' areas of the site at one time. This helps control the way the waste breaks down, making it easier to manage the gas and leachate produced and also helps manage the contours and restoration of the site. Once a landfill site has reached its capacity, operators are legally obliged to ensure that site is properly restored so it can be used in the future for agriculture, amenities or nature conservation.
Find out more about the landfill process.
We divert from landfill 92% of everything we take and unlike a skip or hippo bag, there is no need to arrange and pay extra for a skip permit. Our man & van rubbish removal service includes rubbish clearance, junk removal, house clearance, office clearance, commercial waste collection, property clearance, our mission is to make junk clearance removal a pleasure not a chore.
Skip Hire Comparison
Skip hire in Tonbridge can be an expensive topic and can cause you a lot of hassle. But here at Eclipse waste clearance, we offer a smart, efficient and a cheap alternative to skip hire. You only have to pay for the amount of waste you have and we will do all the hard work for you, because it is important for us to make sure our customers are fully satisfied with the service they are receiving.
Here at Eclipse waste clearance, you can be rest assured that you getting the best possible service for the price you are paying. We offer a very competitive rate to all the skip hire company's in the Sevenoaks; we always strive to make sure you are getting the best customer service with our loyal and dedicated team.
So Why pay those crazy skip prices and do all the work your self when you can use ECLIPSE WASTE CLEARANCE!
The Advantages of Our Rubbish Removal Service
We offer matchless reliability and flexibility, as well as highly motivated work ethic which we feel you deserve! But in addition to our usual outstanding customer service, we also offer our rubbish removal at one of the most affordable rates on the market.
There is a whole array of additional benefits to using our rubbish collection service such as our:
Affordable prices: which we constantly monitor for value

State of the art equipment: and well maintained modern vehicles

Excellent customer service: all of your rubbish removal needs will be fulfilled

24/7 availability: our phone lines are always ready for all your questions and concerns

Flexible appointments: with no extra charge for a weekend, evening and bank holidays bookings

Special discounted rates: available to those who book more than one service simultaneously


SOME OF OUR WORK BELOW

DIY and Builders Waste Removal
Working with hundreds of tradesmen and builders the whole of Kent we're the 'extra man' that helps complete the job, getting it ready for hand-over to the end client. Our Builders Rubbish Removal Service is perfect for removal of:
Bulky waste
Renovation debris
Garden clearances or furniture
Fridge Freezers
Junk Clearance
We remove anything that you want to dispose of that's too big or unsuitable for your wheelie bin. Whats more – we remove the hassle, cost, and inconvenience of skip hire; and we eradicate the inherent uncertainties that exist when hiring a 'man with a van' – "was my waste legally removed"?. Eclipse Waste Clearance guarantee that all waste collected is disposed of responsibly at licensed waste transfer stations to UK guidelines.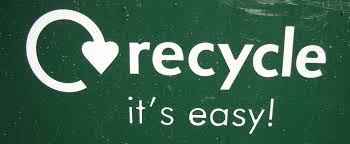 Recycling facts and Figures
UK households produced 30.5 million tonnes of waste in 2003/04, of which 17% was collected for recycling (source: defra.gov.uk). This figure is still quite low compared to some of our neighbouring EU countries, some recycling over 50% of their waste. There is still a great deal of waste which could be recycled that ends up in landfill sites which is harmful to the environment.
Recycling is an excellent way of saving energy and conserving the environment. Did you know that: 1 recycled tin can would save enough energy to power a television for 3 hours.1 recycled glass bottle would save enough energy to power a computer for 25 minutes.1 recycled plastic bottle would save enough energy to power a 60-watt light bulb for 3 hours.70% less energy is required to recycle paper compared with making it from raw materials.
Some Interesting Facts
Up to 60% of the rubbish that ends up in the dustbin could be recycled.The unreleased energy contained in the average dustbin each year could power a television for 5,000 hours.The largest lake in the Britain could be filled with rubbish from the UK in 8 months.On average, 16% of the money you spend on a product pays for the packaging, which ultimately ends up as rubbish.As much as 50% of waste in the average dustbin could be composted.Up to 80% of a vehicle can be recycled.9 out of 10 people would recycle more if it were made easier.


Aluminium

24 million tonnes of aluminium is produced annually, 51,000 tonnes of which ends up as packaging in the UK.If all cans in the UK were recycled, we would need 14 million fewer dustbins. £36,000,000 worth of aluminium is thrown away each year. Aluminium cans can be recycled and ready to use in just 6 weeks.
Glass

Each UK family uses an average of 500 glass bottles and jars annually.The largest glass furnace produces over 1 million glass bottles and jars per day.Glass is 100% recyclable and can be used again and again.Glass that is thrown away and ends up in landfills will never decompose.
Paper

Recycled paper produces 73% less air pollution than if it was made from raw materials. 12.5 million tonnes of paper and cardboard are used annually in the UK. The average person in the UK gets through 38kg of newspapers per year. It takes 24 trees to make 1 ton of newspaper.
Plastic

275,000 tonnes of plastic are used each year in the UK, that's about 15 million bottles per day.Most families throw away about 40kg of plastic per year, which could otherwise be recycled. The use of plastic in Western Europe is growing about 4% each year.Plastic can take up to 500 years to decompose.
Clinical Waste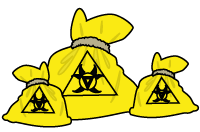 Clinical waste such as nappies, sanitary waste and medical supplies have the potential to be infectious so must be disposed of using special methods.
Be very careful when disposing of needles and syringes.
Look for doctors or manufacturer instructions of how to dispose of medical waste on the packaging containers.
Medicine containers can be recycled accordingly once it is empty.
Contact your local council to see if they offer free medical waste collection.

Some companies are currently implementing clinical waste treatment schemes.1
Metal

Metal is usually separated into 2 groups: aluminium and steel.
You can test which metal your waste is by using a magnet. Aluminium metal is non-magnetic whereas steel is magnetic.
There may be a symbol, such as an alu mark, on the product to indicate what metal it is made from.
Drink cans are usually made from aluminium and food cans are usually made from steel.
Most home recycling bins, provided by your local council, usually accept metal.
Deposit used cans at your local recycling bank.
Make sure drink and food cans are clean before recycling.
Aerosol containers can be recycled, but only when they are completely empty.
Metallic plastic film, such as chocolate wrappers, cannot be recycled.
Find out if there is a 'cash for cans' scheme operating near you.